Status
Mission & Vision
History
Volunteers
Created 60 years ago thanks to the will of Dr. Farid Z Aboujaoudé. Hospital Aboujaoudé pursued since ceaselessly its development.
A sixty-years-old institution, recognized in Lebanon and in the Middle East.
Aboujaoudé Hospital is an institution created in 1961 by Dr. Farid Z Aboujaoudé who wanted to offer to the Maten region the first quality private Hospital. Initially private hospital of obstetrics only, the institution completed itself in 1964 by a pediatric then by other departments, to become in 1966 a General Hospital.
Sisters of the Order of Santa Marta Mission
Sisters of Santa-Marta arrived at Hospital in 1966 as missionaries and as administrators of care departments.
Know how and recognition
Hospital Aboujaoudé remained opened during all the years of Lebanese War. Supplying quality care to the Lebanese community. The medical and nursing teams acquiring during these years a unique knowledge. Dr. Farid Z Aboujaoudé was respectively decorated in 1970, 1982 than in 1988 by Ministers of Health of these periods.
Our mission and values
The mission and values of Hospital Aboujaoudé are always oriented patient quality of care, ethics, listening.
Our mission
Provide high quality, customized, medical services.
Offer a range of treatments ranging from basic treatments to advanced medical care supported by a modern technical platform.
Obtaining the total satisfaction of our patients and all other users of our care program.
Our Values
H
HOSPITALITY
O
OBJECTIVITY
P
PROFESSIONALISM
I
INTIMACY
T
TECHNICALITY
A
KINDNESS
L
LOYALTY
A
ACCOMODATING
B
BRILLIANT
O
ORGANIZED
U
UNIFORM
J
JUST
A
ACCESSIBLE
O
ORDERLY
U
UNITE
D
DEVOTED
E
EMERITUS
Our History
The history of Aboujaoudé hospital began with the foundation in 1961 of an obstetric clinic by Dr. Farid. Z. Aboujaoudé. It is inaugurated during the same year by Dr. Elias El Khoury Minister of Health.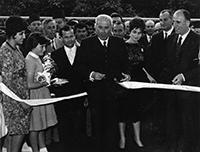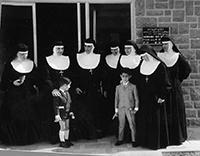 The clinic became in 1964 a center of Obstetrics and Pediatrics, and in 1966 a general hospital. During that year, the sisters of the order of "Santa Marta" arrive at the hospital as missionaries and managers of care services in collaboration with administrative staff.
Dr. Farid. Z. Aboujaoudé is respectively decorated in 1970, 1982 than 1988 (Silver Jubilee) by Ministers of Health time. During war years in Lebanon, the Hospital remained open and provided the most appropriate care regarding quality. The institution has expanded from the architectural point of view, equipment and services on about ten stages. The last major renovation of its recent years has seen the introduction of new services such as interventional cardiology, dialysis, MRI ... Today the hospital is run by Dr. Jihad F Aboujaoudé CEO and Medical Director Dr. Imad F Aboujaoudé.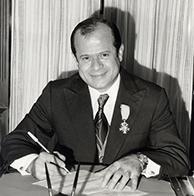 Our Volunteers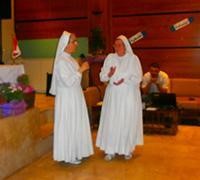 Sisters of Santa-Marta order arrived from Rome to Aboujaoudé Hospital in 1966. The sisters of Santa-Marta order participate voluntarily since this date in the everyday life of the institution. The sisters are in positions of administrative responsibility and medical care.
Besides their skills, they bring a spirituality to the institution making the quality of care unique.
By their presence, all the health body works in a serene and calmed atmosphere.
The sisters of Santa-Marta are daily at the bedside of the sick of all religions, they offer their high-quality medical care with great devotion providing a calming spirits.