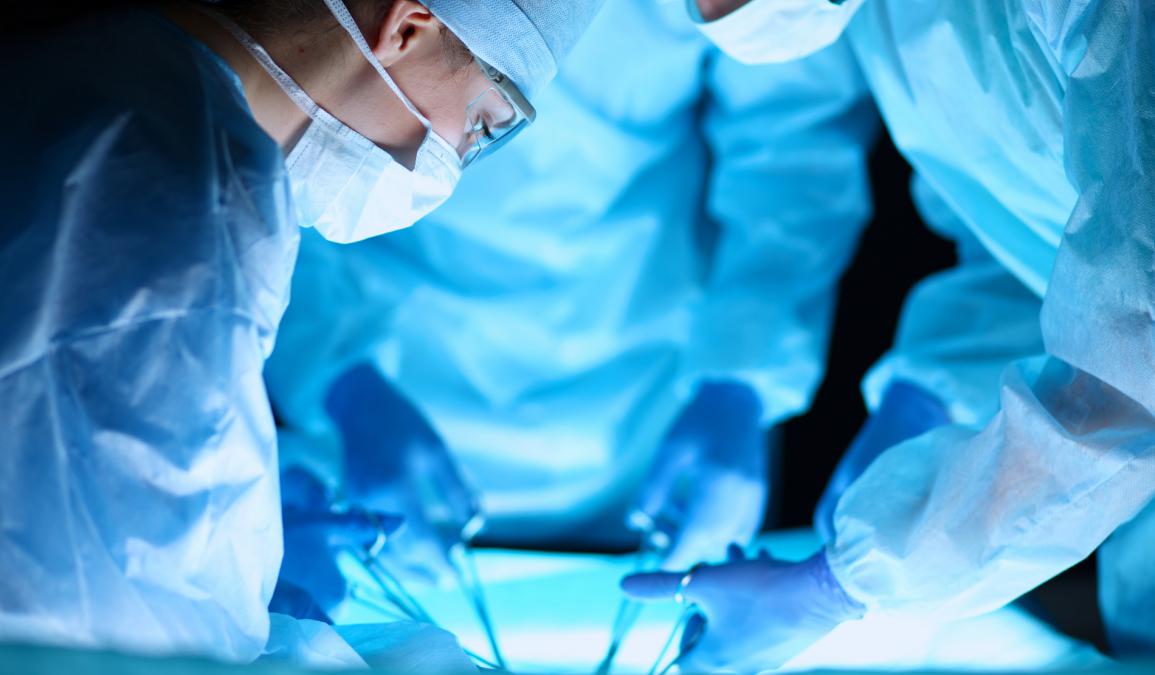 Surgery
Last updated: 10/10/2020
Interventional Cardiology
Neurosurgery

Presentation
The neurosurgery department, with a team of 4 neurosurgeons, offers a range of neurosurgery care for the skull, brain and spine of adults and takes care of pathologies of the brain, nerves, meninges, base of the skull and spine.
The department is recognized for the management of intracranial neurosurgical tumor, traumatic, vascular and spinal pathologies.
It receives neurosurgical emergencies 24 hours a day.
The service includes:
• A neurosurgical consultation located at the Hospital's outpatient clinics
• Hospitals beds including intensive care beds
• A neurosurgery operating room equipped with the latest modern technologies: Operating microscope, intraoperative scopy, neuronavigation on demand, etc.

Specialties
- Surgery of complex lesions of the brain and the base of the skull
- Surgery of intracerebral tumors
- Pathologies of the cerebral ventricles and cerebrospinal fluid circulation
- Urgent cerebrovascular malformations and pathologies
- Spine surgery
- Peripheral nerve surgery
Orthopedic Surgery
The Orthopedic Surgery and Rheumatology department of the Aboujaoudé Hospital takes care of all pathologies of the musculoskeletal system, using the most advanced techniques.

Activities

The Orthopedics and Rheumatology department offers high-level support in the diagnosis and treatment of pathologies of the musculoskeletal system, that is to say diseases or injuries that affect the bones, joints and their ligaments, muscles or tendons, nerves ...
Orthopedics and traumatology for the elderly, adults and children
Joint surgery: hip, knee, ankle, shoulder, elbow, wrist ...
Hand surgery
Spine surgery
Foot surgery
Arthroscopy
Sports medicine
The strong points
Micro-invasive joint surgery: arthroscopies
Traumatology, Polytrauma; people with multiple serious fractures or sprains after an accident.
Microsurgery; suturing small nerves and vessels under a microscope, for example in the hand.
Flap reconstruction surgery; during loss of skin and bone substances.
It works in close coordination with the Physiotherapy, Kinesitherapy and Functional Rehabilitation Department of the Aboujaoudé Hospital.
Team
Under the responsibility of Dr Jihad Aboujaoudé, Head of Department, the activity of the Orthopedics and Rheumatology department is ensured by:
4 experienced orthopedic surgeons, generalists or specialized in one or more areas, allowing optimal care. Former heads of clinics, they all come from the university hospital system and each have more than 10 years of experience in this field.
1 rheumatologist
1 physiotherapist
A team of nurses, orderlies and secretaries
The herniated disc In addition, the rheumatology department works in close collaboration with interventional radiologists.
Main pathologies managed

Orthopedic and traumatological surgery

Orthopedic and trauma surgery is a function surgery (walking, running, exercising, using his hand…). It seeks to restore this function as best as possible when an accident or illness worsens it. It also treats chronic limb and back pain.
Orthopedic surgeons at the Aboujaoudé Hospital are recognized specialists who are able to manage all pathologies of the musculoskeletal system: shoulder, elbow, wrist, hand, hip, knee, ankle, foot, cervical and lumbar spine surgery...
Rheumatology

Rheumatology treats:
- Diseases of the spine (low back pain, sciatica, herniated discs, spinal osteoarthritis),
- Chronic inflammatory rheumatism (rheumatoid arthritis),
- Benign (osteoporotic) or malignant bone diseases (multiple myeloma, secondary localizations)
- Osteoarthritis of the limbs
- Tendon diseases.
The main diseases are:
- Bone, tumor and infectious diseases
- Osteoporosis, fractures and vertebral settlements
- Rheumatoid arthritis, treatment with biotherapy
- Psoriatic rheumatism
- Ankylosing spondylitis
- Disc herniation
In addition, the rheumatology department works closely with interventional radiologists.
Support

It can be done in different ways:
Orthopedic and Rheumatology consultations,
Conventional Hospitalization
Outpatient Hospitalization,
Emergency care.
The Orthopedics and Rheumatology department can rely at any time, 24 hours a day, on the technical board and imaging department of the Aboujaoudé Hospital (scanner, MRI…).
Orthopedic surgeons in the Orthopedics and Rheumatology department provide a permanent on-call service, including night and weekends. In the event of a surgical emergency, it can therefore be provided immediately thanks to the operating room, which remains operational day and night, allowing orthopedic surgical emergencies to be managed 24 hours a day and 7 days a week. The patient will be seen and operated on by the on-call surgeon if necessary. If necessary, a hyper service specialist will be consulted and will be able to take care of the patient.
Quality
Pain management

Quality personalized care also involves taking postoperative pain into account. Advances in anesthesia (especially local), and analgesia, close collaboration with anesthesiologists and physicians on the Pain Management Committee, training staff in postoperative pain assessment, are all elements that help to relieve patients as much as possible.
Quality and safety of care

The organization of the service, the quality and safety of the care provided there, the professionalism of the medical and nursing teams are evaluated every four years by the Lebanese health authorities as part of the certification process. health facilities organized by the High Authority of Health (HAS).
The strengths of the service
Specialized and experienced orthopedic surgeons and rheumatologists
Specialists in all joints: shoulder, elbow, wrist, hand, hip, knee, ankle, foot
Availability of the technical board and a wide range of specialists when needed
Arabic / French / English trilingual team
Possibility to have implants totally adapted to the needs of the patient (no implants imposed)
Microinvasive techniques allow patients to benefit from a shorter hospital stay and longer operative sequelae.
Innovations
Thanks to new techniques practiced at the Aboujaoudé Hospital, dramatic progress has been made in recent years for the well-being of patients:
Custom prostheses
Arthroscopy: diagnosis and treatment of joints by small incisions using miniaturized optical fibers and video cameras with High Definition screen
Treatment of postoperative pain
New technical rehabilitation

These innovations shorten hospital stays, improve patient comfort, and accelerate recovery.
Technical platform
To ensure optimal patient care, physicians can have access to all of the facility's medical-technical trays.
The medical biology testing lab is operational 24/7 (a lab technician is constantly present at the hospital).
Medical imaging: on-call teams in radiology, ultrasound and CT scans
Doppler
Interventional trays

Practical Information

On the day of your admission, you must bring your ID, your prior agreement to hospitalize your third party payer as well as the contact details.
Finally, also consider bringing the results of the tests that have been performed (radios, lab tests…) as well as your medication prescriptions if you are on treatment.