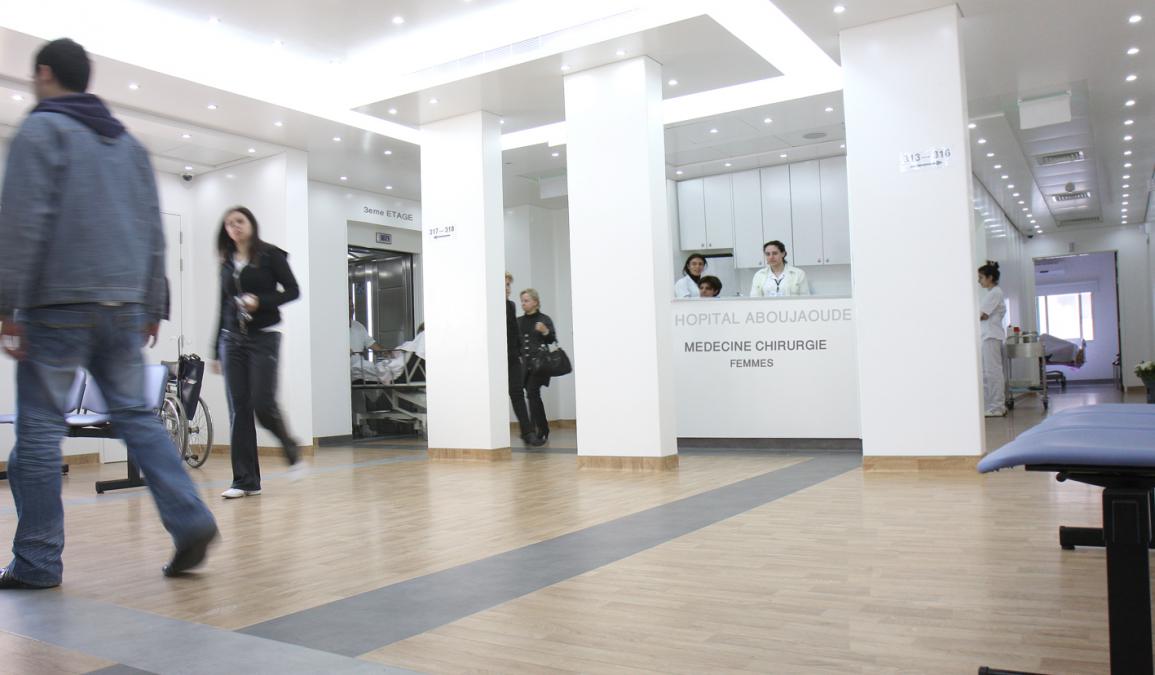 Medicine
Last updated: 16/12/2021
Anesthesiology and Preoperative care
Our anesthesiologists perform all anesthetic procedures :
In the operating room: 5 anesthesiologists specializing in obstetrics and gynecology.
In our ancillary services: endoscopy interventional and endovascular cardiology.
In the delivery rooms: 1 anesthesiologist specializing in obstetrics and gynecology.
They handle all surgical and obstetrical emergencies. On the call, lists guarantee the immediate presence of an anesthesiologist in the hospital's operating and obstetrics suites, which operate 24 / 7
They provide perioperative care and pain management services to hospitalizes patients.
They meet with patients for a pre-operative anesthesia consultation.
What is anesthesia?

Anesthesia is a procedure that allows a surgical, obstetrical, diagnostic or therapeutic act to be performed by eliminating or diminishing the pain it might cause.
There are two main techniques for administering anesthesia:
General anesthesia (GA) which induces a state comparable to a deep sleep.
Local-regional anesthesia (LRA) in which only part of the body is desensitized. There are two types of LRA: medullary (epidural or spinal anesthesia) and peripheral.
Choosing the right anesthesia

During the pre-operative anesthesia consultation, the anesthesiologist chooses the most appropriate technique based on the type of surgical procedure to be performed, the operative site, the patient's medical history and the required post-operative analgesic.

The patient can state his or her preference but, after informing the patient, it is the anesthesiologist who makes the final decision as to the most appropriate technique.

What are the risks involved with anesthesia?

The quality and safety of anesthesia have risen significantly over the past three decades through:
- The improvement of anesthetic agents and more comprehensive training of the specialized physicians
- The assessment of patients during the pre-operative anesthesia consultation, which is now mandatory
- Improved knowledge and treatment of at-risk diseases, transfusion-related risks, and post-operative pain
- The mandatory admission of patients to a Post-Operative Monitoring Unit

Thanks to these improvements, anesthesia-induced mortality has been reduced by a factor of ten to twenty years, while the number of anesthetic procedures performed annually has doubled.
Cardiology
What is cardiology?

Cardiology is the medical specialty that studies and treats the heart and its diseases. By extension, cardiology supports all vascular problems. Its practitioners are called cardiologists.
Heart disease (specifically ischemic heart disease) is the leading cause of death worldwide. The cardiologist follows certain patients called at risk. He specializes in the study of the heart and vessels by relying on increasingly accurate examinations and an increasingly effective therapeutic arsenal available at Aboujaoudé Hospital.
Cardiovascular diseases treated by our cardiologists are numerous as:
Heart failure
High blood pressure
Heart attack, myocardial infarction,
Pericarditis,
Cardiac rhythm disturbances ...
The people most at risk are :
Seniors, smokers, people with high blood pressure, high cholesterol or diabetes are more likely than others to suffer
Dialysis
Technology dedicated to patients' safety
Eighteen dialysis stations equipped with latest-generation generators (Gambro-Hospal Fresenius) approved for online hemodiafiltration.

Water purification through two stages of osmosis in series, ensuring ultrapure water.

Disinfection of generators following each session and use of disposable materials.
100% natural disinfection process making contamination – even accidental – by industrial solvents impossible.
Beds in rooms reserved for patients with a medical priority.

A center dedicated to patients' well-being
Warm, modern center creating a calm and relaxing atmosphere.
Fully air-conditioned, infrastructure adapted to persons with disabilities.
Choice of bed or dialysis chair.
Room Service: a snack is offered during the dialysis session.
Flexibility: the center is open 6 days a week from 7:30 am to 6:45 pm.

All patients receive nutritional advice from a dietician
Emergency Unit
24 / 7 Support
The Medico - surgical Emergency Team of Hospital Aboujaoudé provides 24 / 7 immediate medical and surgical emergency care by practitioners experienced in emergency medicine. It receives a daily average of 30 to 40 patients.
The Medico - Surgical Emergency Team covers
Emergency without vital distress
Treatment is provided by the emergency doctors in the department who may call upon one of the specialists at Aboujaoudé Hospital in the twenty or so medical and surgical specialties.
Emergencies with vital cardiorespiratory distress
The patient is then immediately transferred to one of the intensive care units of Hospital Aboujaoudé - polyvalent or cardiac - where the care is provided on the spot by the doctor resuscitator or cardiologist.
Pediatric Emergencies
Pediatric medical and surgical emergencies are taken care of 24/7 by medical and surgical permanence.
Management Organization
Under the responsibility of Dr. Jihad Aboujaoudé, Head of Unit, the activity of the medical and surgical permanence at Aboujaoudé Hospital is ensured by :
7 emergency Doctors

A dozen nurses, trained in cardiopulmonary resuscitation,

A team of secretaries.
The service has among other rooms :
1 room dedicated to "triage" (orientation of patients),

1 nursing room,

1 slaughter room for patients requiring heavy management.
A short-term surveillance space allows on-site reception of patients requiring continuous observation or patients awaiting admission for hospitalization.
To ensure optimal patient care, emergency physicians can access emergency medical facilities 24 hours a day, seven days a week, on a large part of the institution's medical and technical facilities: radiology, ultrasound, CT scan, interventional radiology, Coronarography, echo-doppler, laboratory...
Surgical emergencies can be immediately ensured thanks to the operating theater which remains operational day and night and to the surgical teams of Aboujaoudé Hospital, which, in conjunction with emergency doctors, provide permanent daycare
Obstetric emergencies are also provided in liaison with the Gynecology-Obstetrics Unit of the Hospital.
In case of emergency
You wish to be transported to Aboujaoudé Hospital Medical-surgical Permanence ?
You can ask the medical team that takes care of you RED CROSS Rescue Call 140 or CIVIL DEFENSE Rescue Call 125 to contact the Medical-surgical Permanence of Aboujaoudé Hospital at 04 718000 extension 714 or 715
The medical emergency surgeons will evaluate with your medical team the opportunity of your transport to Hospital Aboujaoudé and will organize if necessary your arrival in the service so that it takes place in the best conditions of efficiency and security.
Internal Medicine and Immunology
Internal Medicine and Clinical Immunology
The general internal medicine department provides a multidisciplinary approach and coordinates the care of patients with the several departments at the hospital.
Main duties:
Inpatient and outpatient follow-up of patients with comorbidities
Prevention of disease through patient education and vaccination
Diagnose and treat adults across the spectrum from health to complex illness
Manage multisystem disease conditions
Tackle undifferentiated presentations that cannot be fitted within the expertise of a single-organ specialty
Manage multiple chronic disease in a single patient
The clinical immunology department provides diagnosis and treatment of disorders of the immune system.
The diseases caused by the immune system can be due to:
Immunodeficiency where the immune system fails to provide an adequate response. Clinically the patients will present with several infections.
Examples of disease :
- Chronic Granulomatous Disease
- Primary Immunodeficiencies
Autoimmunity where the body targets its own cells. Examples include systemic lupus erythematosus, Rheumatoid arthritis, psoriasis, Sjogren's disease, Scleroderma, hemolytic anemia
Hypersensitivities and allergies.
Clinical immunologists may order many immune tests which are available at the laboratory of Aboujaoudé Hospital to complete the diagnosis. Once the diagnosis is made, specific treatment with biologic agents may be given.
Nephrology & Hemodialysis
The Nephrology and hemodialysis department provides diagnosis and treatment of kidney diseases. It coordinates the activities of the Dialysis Center.
What we do

The Nephrology and Hemodialysis department at Aboujaoudé Hospital offers patients comprehensive health care.

Our clinical nephrology sector provides screening for kidney disease and consultations on an outpatient or inpatient basis. It has access to all techniques used in the diagnosis of kidney disease, particularly renal biopsy, which can be performed on site.

Patient care focuses on preventing kidney disease from worsening, and on informing and educating patients.
When necessary, our on-site Dialysis Center, enables patients to receive dialysis treatment from the same medical team.
The Aboujaoudé's Hospital Nephrology team is placed under the responsibility of Doctor Bachir Mouawad and Doctor Nadine Bassil.
The Pediatrics Nephrology team is under the responsibility of Doctor Pauline Aboujaoudé.

Experienced nephrologists ensuring continuity of care

All the nephrologists in our unit are accredited by Aboujaoudé Hospital and have vast experience in managing and treating kidney disease, regardless of the degree of illness.
A nephrologist is present in the Dialysis Center for the duration of sessions.
Our nephrologists are on a specific on-call list, ensuring their availability 24 hours a day in the event of an emergency.

Highly experienced nurses

A team of specialized nurses highly experienced in hemodialysis works under the responsibility of the nursing supervisor.
Rheumatology
The Orthopedics and Rheumatology Department at Aboujaoudé Hospital takes care of all musculoskeletal system pathologies, with the most advanced techniques
Activity
The Orthopedics and Rheumatology Department offers a high level of care in the diagnosis and treatment of musculoskeletal diseases, likewise, diseases or injuries that affect bones, joints and joints. Their ligaments, muscles or tendons, nerves ...
Orthopedics and Traumatology of the elderly, the adult and the child
Joint surgery: hip, knee, ankle, shoulder, elbow, wrist ...
Hand surgery
Spinal Surgery
Foot surgery
Arthroscopy
Sport Medicine
Department Strong Points
Arthroplasty (replacement of joints with prostheses)
Micro-invasive joint surgery: arthroscopy
Traumatology, Polytraumatics; People with multiple fractures or severe sprains after an accident.
Microsurgery; Suture under the microscope of small nerves and vessels, for example in the hand.
Flap reconstruction surgery; for Loss of skin and bone.
The department works in close coordination with the Physiotherapy, Kinesitherapy and Functional Rehabilitation Department of Aboujaoudé Hospital.
Team
Under the responsibility of Dr Jihad Aboujaoudé, Head of Department, the activity of the Orthopedics and Rheumatology department is provided by :
4 experienced orthopedic surgeons, generalists or specialized in one or more zones, allowing an optimal management. Former heads of the clinic, they all come from the hospital-university system and each has more than 10 years experience in this field.
1 rheumatologist
2 physiotherapist
a team of nurses, caregivers, and secretaries.
Main supported pathologies

Orthopedic and trauma surgery

Orthopedic and traumatological surgery is a function surgery (walking, running, playing sports, using his hand...). It seeks to restore this function as well as possible when an accident or an illness damage it. It also treats chronic limb and back pain.
The orthopedic surgeons at Aboujaoudé Hospital are recognized specialists, able to take care of all musculoskeletal system pathologies : Shoulder, elbow, wrist, hand, hip, knee, ankle, foot, cervical and lumbar spine surgery.
Rheumatology
Rheumatology deals with:
Diseases of the vertebral column (lumbago, sciatica, herniated discs, spinal osteoarthritis),
Chronic inflammatory rheumatism (rheumatoid arthritis...),
Benign (osteoporosis) or malignant bone diseases (multiple myeloma, secondary sites...)
Osteoarthritis
Tendons diseases.
The main diseases are:
Bone, tumor and infectious diseases
Osteoporosis, fractures and vertebral fractures
Rheumatoid arthritis, treatment with biotherapy
Psoriatic arthritis
Ankylosing spondylitis
Herniated disc
In addition, the Rheumatology Department works closely with interventional radiologists.
Care Organization

The patient's treatment can be done in different ways :
Consultations in orthopedics and rheumatology,

Conventional hospitalization

Ambulatory hospitalization,

Emergency support.
The Orthopedic and Rheumatology department can rely on the technical platform and the imaging department of Aboujaoudé Hospital (scanner, MRI, etc.) at any time, 24 hours a day.
Orthopedic surgeons in Orthopedics and Rheumatology Department provide on-call service, night and weekend included. In the event of a surgical emergency, it can be immediately ensured thanks to the operating theater which remains operational day and night, making it possible to take charge of orthopedic surgical emergencies 24/24 and 7/7. The patient will be seen and operated by the surgeon on call if necessary. In case of need, a hyper-specialist of the service will be consulted and will be able to take care of the patient.
Quality
Pain Management
Quality personalized care also means taking into account post-operative pain. The progress of anesthesia (especially local), and analgesia, close collaboration with anesthesiologists and physicians of the Pain Control Committee, training of staff in the evaluation of postoperative pain, Are all elements that help to relieve patients as much as possible.
Quality and care safety
The department organization, the quality and safety of the care provided there, the professionalism of the medical and nursing teams are evaluated every four years by the Lebanese health authorities as part of the certification process Of health facilities organized by the High Authority of Health (HAS).
Department Highlights
Specialist and experienced orthopedic surgeons and rheumatologists
Specialists in all joints: shoulder, elbow, wrist, hand, hip, knee, ankle, foot
Availability of the technical platform and a wide range of specialists when needed
Trilingual team Arabic / French / English
Possibility to have implants totally adapted to the patient's needs (no implants imposed)
Micro-invasive techniques allowing patients to benefit from a shorter hospital stay and lighter surgical procedures.
Innovations

Thanks to the new techniques practiced at Aboujaoudé Hospital, spectacular progress has been made in recent years for the well-being of patients:
Custom Prostheses

Arthroscopy: diagnosis and treatment of joints by small incisions using miniaturized optical fibers and video cameras with High Definition screen

Treatment of postoperative pain

New Rehabilitation techniques
These innovations make it possible to shorten hospital stays, improve patients' comfort and speed up their recovery.
Technical platform
In order to ensure the optimal care of patients, doctors can have access to all the medical-technical platforms of the establishment.
The laboratory of analyzes of medical biology is operational 24/7 (a laboratory technician is present permanently in the hospital).

Medical imaging: on-call teams in radiology, ultrasound and scanner services

The Doppler

Interventional trays
Useful information

On your admission day, you must bring your identity card, your prior agreement of hospitalization of your paying third party and contact details
Also consider bringing the results of the exams that have been performed (X Rays, laboratory tests ...) as well as your medication prescriptions if you are following a treatment.