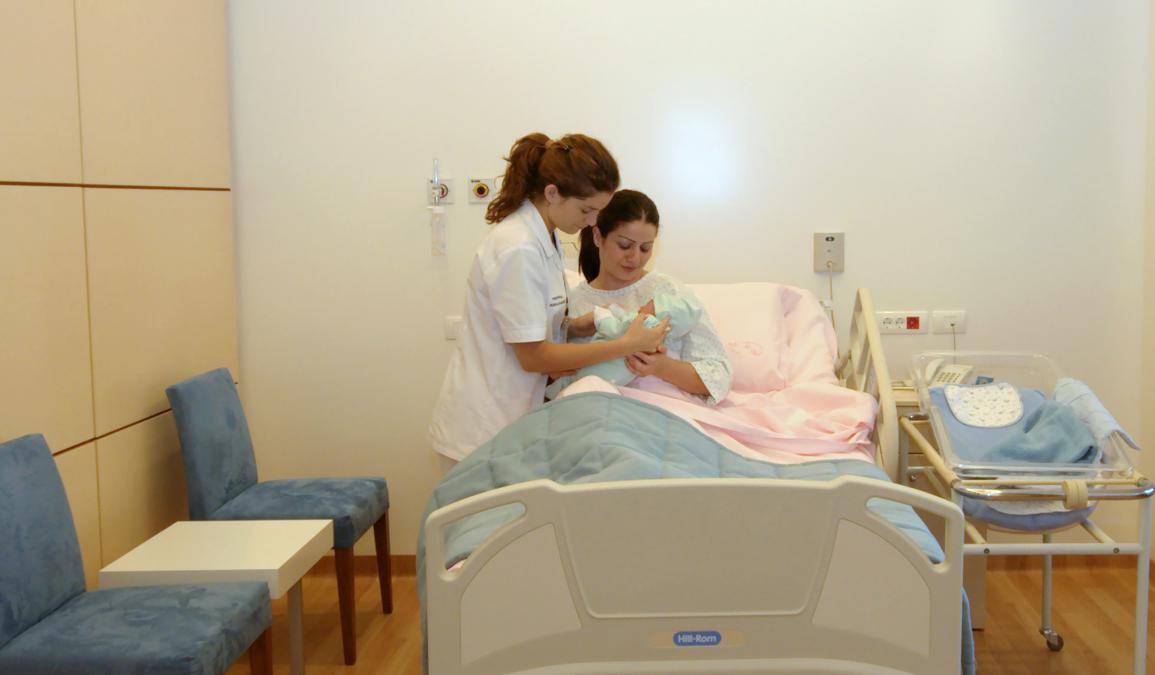 Maternity
Last updated: 6/11/2019
Fully conceived and organized in order to offer maximum safety, comfort and privacy, the maternity at Aboujaoudé Hospital allow mothers to live in the best conditions this unique moment that is the birth of their child.
Multipurpose Birth Spaces  
Each delivery area is equipped with:
A constant monitor.
Anesthesia and adult resuscitation equipment.
A monitor center for remote monitoring during work to preserve the privacy of couples and improve security through multi-site monitoring.
A space for the reception of the newborn and possible gestures of emergencies.
Centralized and innovative monitoring
A monitoring center allows midwives to monitor future mothers wherever they are, and monitor the fetus at the beginning of labor.
A hyper-secure computer system makes it possible to consult the file of pregnancy on the computer and to monitor the fetal heart rate of the baby.
Pain Prevention
Anesthetists can practice epidural anesthesia or spinal anesthesia 24 hours a day.
In post-natal, they ensure the prevention of pain with the obstetrician.
The maternity is equipped with a pre-working bathtub designed to help reduce the pain due to contractions and respect a natural ambiance.
A nursery adapted to each child
The new nursery has been totally redesigned to ensure the highest quality of care.
It has a specific area for the care of newborns requiring continuous monitoring and care.
Experienced pediatricians specializing in neonatology are available at any time in case of emergency. They provide at least two consultations during the stay.
Childbirth in Safety
During childbirth, you are followed by your obstetrician-gynecologist and the anesthesiologist; A midwife and a nursing assistant are present permanently.
Pediatricians, specialized in neonatology, can intervene at any time if necessary.
The maternity teams are organized to ensure a permanence of care. The availability, immediately if necessary, of the technical platforms of Hospital Aboujaoudé contributes to this high level of safety (for example, embolization on the spot ...).
A team of competent nursery nurses
Although a continuing presence of nursery nurses is not mandatory in maternity, the Hospital Aboujaoudé Maternity has chosen to have a team of nurses present 24 hours a day. This team is trained in emergency gestures and "care Lavished without pain ".
Breastfeeding
The entire maternity team is committed to a quality approach to promote and support breastfeeding. She is committed to respecting the Breastfeeding Charter.
A privileged parent-baby relationship
At the moment of birth, the baby is skinned on his mother's womb.
Except in special cases, all care of the baby can be done in front of the parents.
Each room has a baby corner that allows mothers to care for their child independently if they wish.
In this way, mothers can never be separated from their child, from birth to motherhood.
Everything is done so that the fathers are involved as much as possible in the birth if they wish
Presence at the time of delivery (by low or even cesarean section), Skin with the baby
Access to nursery and participation in care.
The possibility of accompanying bed for the night.
Well-being and serenity
The new maternity, fully air-conditioned, is composed of 12 rooms including 5 individual suites. Each room has a private bathroom, a flat-screen TV (Lebanese and international channels), a minibar and a safe. Different services are available :
Choice of several menus for each meal.
Room service for moms and their visitors.
Hairdresser, pedicure, beautician available for simple appointment.
Patient information
Evaluating the delivery costs at Aboujaoudé Hospital Maternity
Aboujaoudé Hospital offers to make a free estimate of your childbirth expenses and the reimbursements you will get from the Social Security and your complementary health. Depending on your contract, you can be reimbursed up to 100%. To know more. >>> Ask for a personal estimate of your expenses and refunds by contacting our Patient Information Service : Tel + 961 4 718000 extension 4000.
FAQ: 
After childbirth, how does the stay on maternity leave?
One of the highlights of the maternity ward is our top-class hostelry which allows mothers to live their first moments with a baby in a pleasant and luxurious context: rooms, junior suites or suites transformable into apartments, room service ... Young parents also have access to the cafeteria
Should you register in advance at Aboujaoudé Hospital Maternity?
Yes, registration for maternity is compulsory. It facilitates your arrival and it ensures you a room. It will also give you the opportunity to have a private tour. >>> Book your room as soon as possible with our
Patient Information Service: Tel + 961 4 718000 extension 4000